Divorce Lawyer in Irvine, CA
Award-Winning Divorce Representation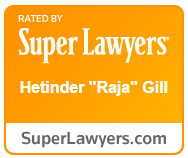 Did your spouse hand you divorce papers when you least expected it? Have you been planning on divorcing your spouse for a while now and are at last prepared to take the first step? Was the decision to dissolve your marriage mutual but you do not know where to turn for support? No matter the unique circumstances surrounding your divorce, our Irvine divorce attorneys at Gill Law Group, PC can help you.
What Sets Our Orange County Family Law Firm Apart?
Client-Oriented Approach & Service
Zealous Advocacy to Protect Your Rights
Named a "Rising Star" by Super Lawyers® (2017 - 2018)
Voted National Trial Lawyers: Top 40 Under 40
Free In-Person Consultation with an Experienced Divorce Lawyer
A divorce – whether it is uncontested or contested – is sure to shake things up a bit for you and your day-to-day life. To help prepare for the changes, and to make certain your best interests are not forgotten as the process progresses, allow us to step in and support you. We're only a phone call away.
Let's discuss the details of your divorce. Contact the firm today.
Together, We Can Get You Through This Difficult Time. Call Us!
Everyone who comes to our law firm in Irvine has a different story than the next. The underlying truth, however, is that they need some legal guidance and moral support. By recognizing the importance of each case to everyone we represent, we believe that our Irvine divorce attorneys have been able to improve the lives of many people in our community. We would be honored to be able to do the same for you.
Get Started
Exploring Alternatives to Divorce
When a marriage is coming to an end, is divorce the only path ahead? Most people in California are not aware that there are actually other alternatives that might be better suited to their unique situation.
You may want to consider these lesser-known alternatives to divorce:
Legal Separation: If you are not entirely committed to the idea of ending your marriage, you should talk to your divorce attorney in Orange County about legal separations. A separation is closely similar to a divorce and provides much of the same benefits, only it does not actually dissolve the marriage.
Annulment: For some people, a divorce is not enough, and they require the marriage to be more or less stricken from all records. A successful annulment will effectively make it as though the marriage never happened. This can be beneficial for multiple reasons, including religious beliefs.
Modifying the Terms of Your Divorce
In addition to providing powerful support both before and during the divorce process, our attorneys are also equipped with the skills to help you alter the terms of your divorce decree after the fact. In the state of California, spouses are able to petition with the courts to modify nearly any aspect of their divorce, including child custody, child support, spousal support, and visitation, in the event that a substantial change in circumstances should present itself from the time the order was first issued.
Acceptable changes in circumstances that may warrant a modification include:
Substantial changes in income
Illness or disability of either spouse
Changes in a child's developmental needs
Loss of employment
Relocation (especially to another state)
An unsuitable environment for children
Our knowledgeable advocates can examine the circumstances of your situation and guide you step by step through the process of pursuing a modification. From filing the necessary court papers to negotiating with your ex-spouse, we can handle the legal heavy lifting and maximize your chances of securing the results you need.