Irvine Motorcycle Accident Lawyer
Riders in Irvine Can Call on Our Firm After a Crash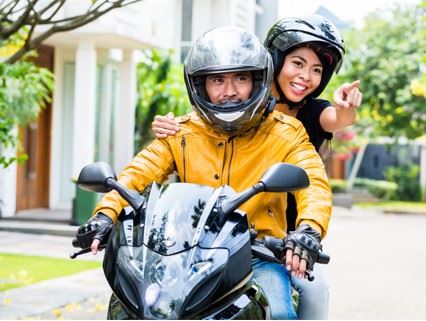 Motorcyclists need outstanding legal assistance after being in a crash because they are much more likely to be severely injured than other motorists. Also, insurance companies like to try to blame motorcyclists for everything by labeling them as reckless thrill-seekers. At Gill Law Group, PC in Irvine, we have a team of motorcycle accident attorneys who proudly stand with local riders and fight insurers however we can. Your total recovery is our objective.
Call us at (949) 681-9952 right now. Attorney Raja Gill is an avid motorcycle rider, so you know he'll fight for your case!
What Can Our Motorcycle Accident Attorney in Irvine Do for You?
When you are working with our motorcycle accident lawyer in Irvine, you will be backed by a team that genuinely cares about your health and happiness. But you will also have a team that is highly experienced in all matters related to personal injury claims, liability laws, insurance regulations, courtroom procedures, and much more. Whatever you need us to do to make your life easier as your claim advances is exactly what we want to do.
You can depend on our team for legal assistance that does the following and more:
Investigating the cause of your accident
Uncovering all your damages and calculating them
Negotiating with insurance companies for a settlement amount
Litigating in court if a settlement is impossible
What Causes Motorcycle Accidents?
In many cases, a motorcycle accident is not caused by any mistake of the motorcyclist. Instead, it can be traced back to the negligence and mistakes of other motorists on the road.
Common causes of motorcycle accidents include drivers who:
Turn left without a green arrow and in front of an approaching motorcyclist.
Speed and crash into the back of a motorcyclist at a red light.
Merge or change lanes without checking their blind spots and mirrors for motorcycles.
In all of these situations, the underlying common thread is a driver's inattention that makes seeing a motorcycle more difficult. Drivers who are only paying half-attention to the road will be looking for car-sized vehicles with two headlights or larger trucks. They will not be looking for small motorcycles with only one headlight. This behavior can cause a driver to look directly at a motorcycle and not even realize it is there.
What Kind of Injuries Can You Get from a Motorcycle Accident?
Some of the most common injuries sustained in motorcycle accidents include:
Road rash
Broken or shattered bones
Torn ligaments
Neck injuries
Scarring/disfigurement
Paralysis (temporary or permanent)
Can You Sue If You Didn't Have a Helmet On?
California law requires you to wear a motorcycle helmet when the vehicle is in operation, which includes idling or waiting atop it without the engine running. If you get hit while you do not have a helmet on, then you could be severely injured even at low speeds. But you are not robbed of your chance to pursue compensation just because you didn't have a helmet on. You still retain the right to sue anyone who hurts you due to their negligence.
If anything happens in your case because you did not have a helmet on, then it will likely be an increase in your own liability. In California, you can sue even if you are 99% liable, though. Still, keeping your liability low is a must, as is preserving your own health, so you should never ride without a helmet.
Please Call Us Today – We Want to Help
Our Irvine motorcycle accident attorney is waiting to assist you with your claim. You can dial (949) 681-9952 at any time to speak with a member of our law firm or to request a no-cost consultation. Today could be the day that you start down the path to a fair financial recovery after a motorcycle wreck. But it all begins with reaching out to us!