Orange County Property Division Lawyer
Divorce and Property Division in California: Who Gets What?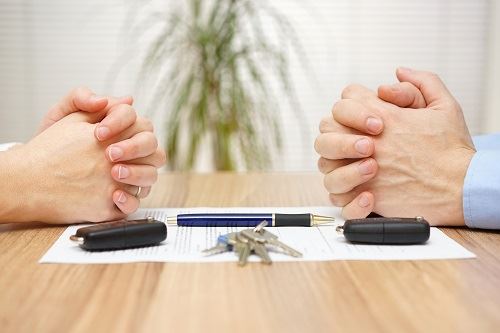 An obvious question that comes with any divorce is who gets what. Our Orange County​ family law attorney can help you navigate through property division laws at the time of a divorce. Whether you have an extensive investment portfolio or your finances reflect a more common picture of credit card loans, a couple of cars, and a house, our property division attorney in Orange County can help you in getting your fair share in a divorce.
California is a community property state. In other words, the property division laws for a divorce are controlled by community property principals. Under the community property system, any income earned by either spouse through his or her labor is considered community property and it belongs to both spouses in equal shares. However, any property received before marriage or property received during the marriage by means of gift, will or inheritance is not considered community property and it belongs to the spouse who received the gift or inherited the property.
How Are Debts & Assets Divided in a Divorce?
In the event of a divorce, any debts, such as credit cards, mortgages, and the like are also considered community debts. The same can be said of debts arising out of medical bills of one or both spouses. The community property system is seemingly simple, but it can get fairly complicated when you have educational loans or retirement plans. The property division can also be very complicated if one spouse owned something before marriage, but it was then brought into the marriage and used or developed by both spouses.
Is California a 50/50 State When it Comes to Divorce?
In general, the state of California aims to fairly divide property between both parties in a divorce. However, this does not mean that you will automatically receive exactly half of everything you own together. For example, you can't split a house in two, so you and your attorney may decide that you're will to allow your spouse to take the house in exchange for something else of equal or similar value that you both own. Additionally, you and your spouse may decide that you would rather sell the home and split the money between the two of you.
Orange County Property Division Attorney Representing Your Interests
If you are contemplating the termination of your marriage by divorce, you need a competent, experienced, and aggressive attorney on your side. Attorney Gill is a zealous advocate for his clients and leaves no stone unturned in accomplishing the objectives of his clients. He understands the difficulties and challenges his clients face and he is there to help them every step of the way during this difficult time of their lives. Mr. Gill will listen to the circumstances surrounding your case and develop a mutual understanding of the goals and limitations of your case. He will then tirelessly work to achieve your goals.
Mr. Gill makes it a priority to be upfront and openly discuss his legal opinion regarding your case to prevent any unpleasant surprises. We should be your first call if you are looking for a family law attorney in Orange County that you can count on for getting you the answers when you need them the most.
You can call our office at (949) 681-9952 to schedule a complimentary consultation with a property division lawyer in Orange County.