Orange County Slip & Fall Attorney
Helping You Get Back on Your Feet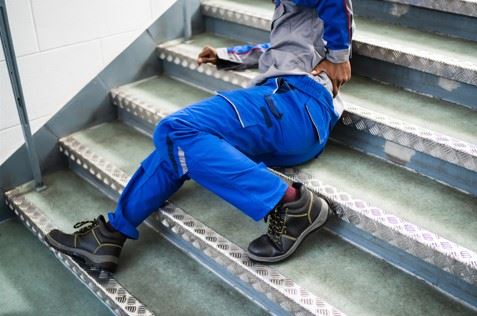 Are you struggling to make ends meet after being in a slip and fall accident on someone else's property? An injury claim filed by a trusted local attorney could be what you need to set things right again. Gill Law Group, PC in Orange County would like to hear from you if you were hurt in a slip or trip and fall accident that was not your fault. Our team of attorneys has fought for so many others in situations much like yours. Trust your case with us and leave all the heavy lifting and legal challenges to our professionals.
Call (949) 681-9952 or contact our firm online for an initial consultation.
How Do You Prove Negligence in a Slip & Fall?
How do you sue a company for a slip and fall accident? It begins with being able to prove that the company or proprietor was negligent in its duty of care owed to you. Proving negligence is not always easy, so it is advised that you work with a local slip and fall accident lawyer like those you can find at Gill Law Group, PC.
A slip and fall case is a type of premises liability case. In such cases, a property owner's negligence depends on the type of hazard that caused the accident and whether that hazard was "open and obvious." If a hazard was easily accessible to a visitor, it is "open." If it could be identified readily by the average, reasonable person, then it is "obvious." Proprietors who do not address an open and obvious hazard before it can contribute to someone's slip and fall accident can more easily be proven negligent and, therefore, be more easily held liable for the related damages.
Consider these two similar examples of slip hazards:
Water in front of a retail store: A retail store clerk is instructed to hose down the sidewalk outside of the store to clean it. A shopper enters the store shortly afterward, slips on a puddle of water at the front of the store, and is hurt. In this scenario, the water was an open hazard because it was directly in the path of visitors. It was an obvious hazard because the store intentionally made the puddle.
Loose cables in a storeroom: A shopper in a retail store decides to wander into the back of the store despite there being several signs warning that only employees are permitted there. They enter a storeroom, cannot find the light switch, trip on some loose cables that fell out of a box, fall, and get hurt. In this scenario, the cables are likely neither open nor obvious because they were in a place restricted to shoppers and no employees would have reasonably known that a box fell inside the storeroom.
What is the Average Settlement for a Slip & Fall Case?
How much compensation can you expect to get at the end of a successful slip and fall case? It is difficult to say for several reasons, including that it is difficult to win a slip and fall case in the first place. Defendants often like to lean on the easy defense strategy of claiming that the claimant fell on their own, not due to a hazard. Most slip and fall accidents are not caught on camera, so there will be little to no tangible evidence of the actual cause, which only plays into the defense's favor.
Defendants also like to argue that if a hazard was so "obvious," then the claimant should have been able to see and avoid it. As they fight over liability, they will also fight over damages, which makes it incredibly difficult to predict the value of your slip and fall claim. For these reasons and many more, we highly recommend that you begin your claim with the help of a professional slip and fall lawyer.
How Does Comparative Negligence Affect California Slip and Fall Claims?
California observes what is known as the "comparative negligence" rule, which means that if the victim of the slip and fall can be found to be even partially responsible for their own accident, then the amount of compensation that they are eligible to receive may be reduced. For example, if any of the following were true of your accident, you may be facing a reduced settlement amount:
Your accident occurred in an area where visitors or customers are not allowed/expected to be
There were warning signs and attempts made to block or tape off the dangerous area
You were distracted and weren't paying attention at the time of your fall
Any reasonable person would have been aware of the danger without signs being posted or the area being blocked off
If any of the above are true, you may face push-back from the property owner during your slip and fall claim. This is when it's important to have a skilled injury lawyer on your side to protect your case and help get you the compensation you deserve.
What is the Statute of Limitations on a Slip & Fall Case?
California has a two-year statute of limitations on slip and fall cases. The timeline begins on the date that your injuries become reasonably apparent, which might not be the same day as the date when you fell. For example, if you fell, landed awkwardly on your wrist, but it only started badly hurting a month later, then a court might decide that the two-year statute of limitations actually begins a month after your accident because that is when you became aware of the seriousness of your injuries.
In any situation, you should not wait until the last minute, day, week, or month to file your slip and fall accident claim. Once the statute of limitations expires, you will be barred from filing a claim at all, which means achieving a recovery will become impossible. Do not risk your recovery by waiting too long. Speak with a lawyer today.
How Long Do You Have to Go to the Doctor After a Slip and Fall?
Most lawyers will advise you to see a doctor as soon as possible following a slip and fall accident. At the very least, you should see a doctor within 72 hours of your accident. There are several reasons for this:
You need to have your injuries tended to as soon as possible to ensure that you don't have any internal injuries or latent injuries that haven't presented themselves yet
It's important to establish professional medical documentation of your injuries as soon as possible in order to get your case off to the right start
Even if you don't think your injuries are severe, make time to see a doctor within the first 72 hours following your accident. If you aren't able to see your regular doctor within that timeframe, you should go to an urgent care facility.
Ready to Get Your Case Moving
You can talk to an Orange County slip and fall accident attorney from Gill Law Group, PC to learn more about your options after being hurt on someone else's property. Whether your slip and fall accident involved loose cables, uplifted carpeting, slick tiles, random debris, or any other slip hazard, we are the law firm you can trust to make the most of your case. We know what it takes to investigate slip and fall accidents, maximize damages, and challenge insurers head-on.
Contact us today. Our team is standing by to help.
Related Reading: